Decades ago, I made my first biblio-pilgrimage to the iconic Shakespeare and Company bookstore in Paris. These days it's not quite the same place now that it has an adjoining café that serves American bagels and brownies. And then there are the philistine Instagramers who mob the store and don't even pick up a book. Still, the bookshop is imbued with the spirits of some of the 20th century's greatest writers and artists.
Recently, Princeton University launched a project to digitize records from the bookshop and the little known lending library that Shakespeare and Company offered select patrons. This overdue project provides tantalizing glimpses of Paris during the interwar years, revealing the reading habits of literary giants including Walter Benjamin,James Joyce,Ernest Hemingway, James Joyce, Simone de Beauvoir, and Gertrude Stein.
When Sylvia Beach opened Shakespeare and Company in 1919, English-language books were expensive and hard to find in Paris. Writers and artists who had flocked to the capital of literary modernism rushed to sign up for Beach's library service. Joshua Kotin, an associate professor of English at Princeton and the project's director, said that Beach was a "meticulous, obsessive record keeper", and that "we are only now developing digital tools that will allow us to understand and realise the archive's potential".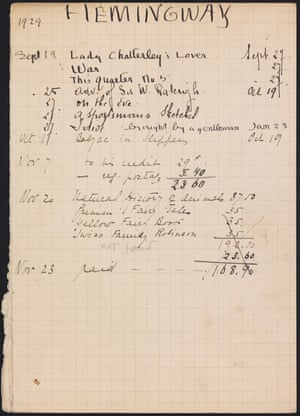 "We want to understand genius," Kotin said. "Does what Hemingway read help us understand what he wrote and why it is so great? It is also fascinating to connect our everyday practices – what we borrow from our local library, what's in our Amazon cart – to the practices of people in the past. And there's something illicit about learning about what and how people read – we're learning about a very private, solitary activity.